race day finally arrived.
my cheering crew all the way from columbus, oh:

we drove down to monterey on saturday morning and checked into the portola hotel, which was right where the race was going to start/end.
that evening, we met up with veronica and her friends for dinner at tarky's roadhouse. i had been increasing my carb intake since wednesday and treated myself to a heaping shrimp pasta dinner. it was so good. after dinner we turned in early so i could be up at 530 am.
all week i'd been having anxiety about the race and the last night before was no different. i woke up a couple of times during the night but was still able to get 7 hours of sleep. my natural body alarm woke me up at 530 am. we got ready and i had a pre-race breakfast of a couple handfuls of kashi heart-to-heart cereal (forgot to bring a spoon) and a zone bar - dark chocolate with almonds (of course).
outside, it was dark and cold but runners were everywhere, running around to warm up. i preferred to save every ounce of energy i had for the actual race. we headed to the starting area and easily found veronica and the girls. we lined up with our starting group (determined by predicted finish time).
here's us at the starting line:

my adrenaline was flowing. i was excited to run with the new songs i'd just added to my playlist (thanks to ms duffin!). i started out feeling really good. i mean really good. i started the race with chris brown's "wall to wall."
the first 3 miles seem to fly by. the hardest part was manuvering through the crowd (how did the walkers get in front of us!?!) to get to a pace that was comfortable for us. veronica and i managed find a good rhythm and kept the same pace for most of the race (until about mile 10).
a little after mile 3 i stepped on one of those road divider things. i felt my ankle tweak a little but didn't feel any damage (that is until AFTER the race - i'm icing my ankle as i write this).
at mile 2 i started to hydrate (ie, take sips of propel...why i wore a running belt) and continued every 2 miles after that.
at mile 4.5 i ate my first GU. this time i had chocolate (see previous blog entry for the hidious experience with plain GU) which thankfully, tasted good. my stomach was already feeling a little queasy (normal with running long distances) but i forced myself to eat it. i couldn't have timed it better.
heading into mile 5 was a....HILL! whoever told me it was a flat race LIED. the hill was brutal. ironically, it happened at at the exact same place as the trail that we trained at (sawyers camp - steep hill between 4.5 and 5 miles in). i had a hard time bringing my heart rate down after that hill, but eventually, the course turned downhill so i had a quick recovery.
from this point on, the course was straightway along the coast. it went out to mile 8, then was to turn us around to head back. as i came out of mile 5.5, i saw runners already heading back towards the final stretch. i was in disbelief. seriously!?!
i felt really good from mile 5.5 - 8 but mentally, it was a little annoying to see runners heading in the opposite direction; it made that stretch seem to go on forever.
oh - along the course they had bands and musicians - none of which i found inspirational and motivating. thank goodness i had prince, britney, christina, madonna, rihanna with me on my iphone.
i got to mile 8 and made the turn to head back in the other direction. shockingly, i was still feeling good - so far no pain in my feet back, shoulders and legs. mentally, i still ok and told myself, less than 5 miles left!
at mile 9 i was due for another GU packet. my stomach was still feeling a little queasy but i knew i needed the caloric intake and forced myself to eat it. its a good thing too because at mile 10 fatigue started to set in. i had never run longer than 10 miles so it was new territory and i wasn't sure what to expect from here on out.
at this point, i could feel my body get tired and start to ache but i had a burst of energy (the GU) because my pace accelerated. suddently i blocked out everyone around me and all i could see was the path ahead of me. when i get like this, i become unaware of my surroundings and pace. all i focus on is putting one foot in front of the other to get to the next mile. i actually ran my fastest during this stretch and it carried me through until the last mile.
the last mile KILLED me. my quads ached. my hips ached. badly. even though i could hear michi's voice saying, "whatever you do, don't stop!", i actually TRIED to stop, but i couldn't. my legs wouldn't let me. i knew if i stopped, the pain would get worse and my muscles would start to get stiff, so i kept going.
about a quarter mile later, i got a really bad side cramp and forced myself to walk. i had just gotten to the 2-hour mark. my goal was to finish in 2 1/2 hours and i was obviously going to make it, but i wanted to finish without stopping. i was really mad at myself for walking. i walked for about .05 miles and then started running again. but at mile 12.75 i had to stop again. as i clutched my side in pain i could see the finish line and refused to finished the race walking. at that very moment veronica caught up with me and rocky's song "gonna fly now" came on so i made myself start running again. i had one eye glued to my garmin, counting how many steps i had left. it hit 13.1 and i still wasn't at the finish line - what!?! the race actually ended at 13.33.
here's an "action" shot of me as i headed towards the finish line:

scattered along the finish line was families, friends, strangers - all well-wishers and supporters cheering us on. as i approached the finish line, i heard strangers cheering me on by name. i was wondering how they knew who i was, then remembered our names were on our bibs. duh.
i crossed the finish line to whitney houston's "queen of the night" at 2 hours and 15 minutes. it was perfect. finished to my 2 favorite songs, under my goal time.
cooling down and cramping up:

right after the finish line, we ran into a dead stop of runners getting blankets and food. after running 13.33 miles, we were forced to come to a sudden stop. i could feel my legs cramping and my muscles stiffening. my stomach was still queasy and i knew i couldn't eat so i just grabbed a banana and some water for later. veronica's parents and friends were right there to meet us. i took a a couple of photos with them, congratulated veronica (yay us!) then went off to find kady.
just as i found her it started to rain. we took a few quick photos (preview of the christmas card you're getting from me this holiday season) and then headed back to the hotel so i could stretch. luckily, the hotel was steps from the finish line. steps that i could barely walk up and down.
tried to pose like rocky but had too many things in my hands: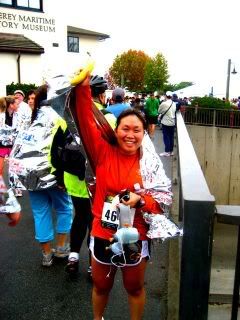 all pau!

i'm in a lot of pain right now, but i feel so good. the "after" feeling is worth the training and soreness. i can't explain it but encourage you to train for your own race so you can experience it for yourself.
being able to finish a half marathon proved a lot to myself. growing up, i was never an athlete or athletic but now i consider myself one. i know that i have the mental and physical capability to compete - with myself and with others.
shortly after we crossed the finish line, veronica turned and asked me if i wanted to do another one in february. i'm so there!
here's MY magic shoes that carried me thru. i might have to get these bronzed!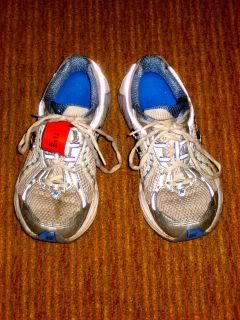 the results:
total distance 13.33 miles
total time 2:15:49
avg pace 10:11
avg speed 5.9 mph
max speed 9.6 mph
the official results: