Its Sunday afternoon and I'm watching VH1's countdown of the greatest songs of the 90's. Can there BE a better way to spend a Sunday afternoon?!? These songs are taking me back to my college years. I mean, how can I forget (in random order):
- Miki singing TLC's "Waterfall" in the shower while on the radio so she could win free tickets to Raging Waters (and she did win)

- Hearing "Gangsta Lean" and thinking of Robbie Reid (I know, weird, I can't remember why we made that connection)
- Listening to Mariah Carey's "Fantasy" album over and over on the road trip to LA with Miki, Chrissy, Nancy, Kamu, Jeff and Kevin
- Dancing to "Rumpshaker" and Mary J Blige's "Real Love" at the freshman dances at the Wilk
- Wednesday (Ladies Night) and Saturday (College Night) at the Edge - "Whomp There It Is" and Ace of Base's "The Sign"
- Going to the Janet Jackson concert - twice! - with Tami, Chrissy, Miki, Sarah, and Adam. That whole "janet" album was SO GOOD!
- Kady ALWAYS finding a Hootie song for me on the radio whenever I got into her car...yes, they were overplayed...

- Listening to Sarah McLachlan and Live in Wendy's car on the way to Chili's after church every Sunday - chips and queso!
- Miki, Chris, and Lory lipsyncing to the Fu Schnickens at Air Bands (I swear I have photos of this...)
- That hot August night that the radio played "Gangsta's Paradise" ten times in a row for the Top 10 at 10.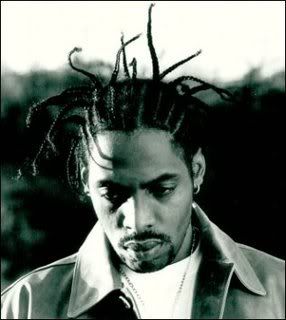 - The midnight showing of "Rattle and Hum" and Chrissy and I dying cause we spot Daz in the audience.
- Warren G's "Regulators" and Tevin Campbell's "I'm Ready" in the Summer of '94
- TLC's "Diggin' on You" in the Summer of '95
- The Jagged Little Pill album
- The "Mo' Money" and "Boomerang" soundtracks will always remind me of Kaulana
- Selena's post-mortem album and seeing in the theatre a ton of times with Krymsyn and Krydynce
- Janet Jackson's "Black Cat" at the opening of every home basketball game -- and we went to EVERY GAME when KC was on the team...
- And last but certainly not least - who can forget "Shoop?" Heck, we even went shoopin' to the Salt 'n Pepa/R Kelly concert- 2nd row!

...Good Times...