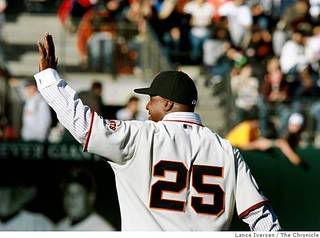 At the beginning of the baseball season, I picked tickets to last night's game vs the Dodgers, not knowing that it would be THE game to be at this season.
The Giants were honoring the outfielders from the past 50 yrs. The rumors swirled all week that Barry (I'm not even going to type his last name because you should know who I'm talking about) would make a return to San Francisco. But the rumors were unconfirmed until yesterday.
Yesterday afternoon I was driving in Burlingame when Jeff called to tell me he'd seen the confirmation on the ESPN crawl but was still unsure. I raced home to search the Internet and found a still unconfirmed, but more hopeful story on the San Jose Mercury News' site.
Sure enough, to my delight, Barry returned to PacBell! Without even being on the roster, he brought that electric buzz back to the park that had been missing all season.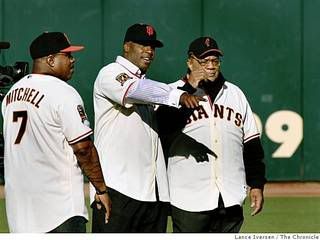 Anyone who has been to the park this year will have to admit, the games are rather dead since Barry left. I mean, I still go because I am a Giants fan, but its been hard, really hard, to follow the team, let alone baseball this season. Its just not the same. That magic is gone.
But for one night, the sparkle returned. And for the icing on the cake, we beat LA in extra innings. His mere presence changed the whole game.
We love you Barry!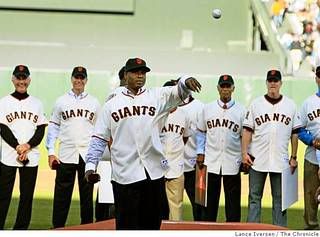 (click on the post title to be read Ray Ratto's article)