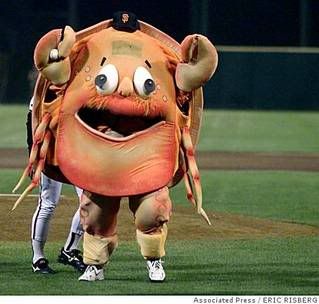 All week I looked forward to going to Crazy Crab night at the Giants game. The Giants were giving away a bobblehead of the hated mascot from the 80's. It was only being given to the first 20,000 fans so we felt pressured to get to the park extra early - like 5:30 for a 7 pm game. On an extra cold, typical San Francisco summer evening, we triumphantly got our bobblehead! And in keeping in the spirit of the evening, bought overpriced crab sandwiches and calamari from the Crab Shack.

Having had our dinner and gotten our bobbleheads, we were ready to bail - and the game hadn't even started yet! You know its a sad season when the 2 things we most looked forward to was getting the giveaway and seeing the opposing pitcher (CC Sabathia). We stuck around till the 3rd inning, then bailed in favor of seeing the Dark Knight.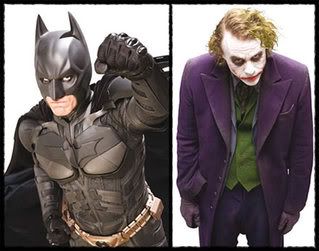 All I can say is Wow. WOW. What an incredible show. Okay, I admit, I feel asleep for a little bit in the beginning (are you shocked?) but I woke up in plenty of time to see the majority of the movie. Words can't even begin to describe it. Its haunting. Demented. Riveting. I mean, no wonder Heath Ledger was on all those meds - that role drove him to it! His performance was mesmerizing. And don't even get me started on Christian Bale. There are not enough words in this world to describe his hotness.
I definitely need to see this movie again. And again. And again. The only thing that was disappointing was Maggie Guyllenhall. The fugliest of the fug. She had no chemistry with anyone or anything - animate or inanimate - in the flick. I spent almost 24 hours trying to think of who would have been better; in 5 seconds of me asking for suggestions, Troy said, "Kate Beckinsdale." He's totally right - she would have been WAY better than fugly.
After the movie, I couldn't go to sleep. Everytime I closed my eyes, all I could see was The Joker saying, "Kill the Batman..."