when i was little, my MOST favorite thing to do was listen to my grammy's stories about her childhood days and her children's childhood days. i LOVED it. she used to get tired of telling me stories and always sang, "tell me a story, tell me a story, remember what you said..."
i'll never forget her story of december 7th. fdr called december 7, "a date which will live in infamy." in 1941, it was the day pearl harbor was attacked.
it was also grandma and grandpa first wedding annivesary.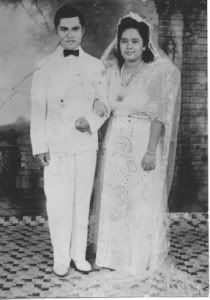 they were living in wahiawa, which is close to pearl harbor. they had decided to spend the day at the beach but as they drove there, they saw the american soldiers along the roadside. the soldiers were waving to them, but they couldn't understand what they were saying. as they got closer, the soldiers told them they had to turn around and go home, because the pearl harbor was under attack. talk about a memorable anniversary!
so while the world remembers december 7th as pearl harbor day, today our family remembers it as grandma and grandpa gomez's 68th wedding anniversary.