after months of searching, i finally found the perfect hair product...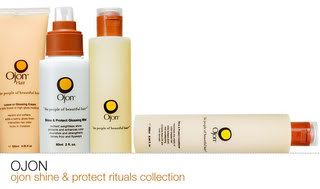 ...and all i needed to do was ask "my juju, my tita", who is a professional beauty educator. she recommended ojon to me and last night i finally tried it. its fa-bu-lous and smells so good!
from www.ojon.com:
from the remote tropical rainforests of central america, an ancient native secret to naturally beautiful hair has been discovered.
central america's miskito indians, living on the lowlands along the caribbean coast, were encountered by columbus on his fourth voyage to the americas in 1502. five centuries later, the miskito live very much as they did then. in their native language, they are called tawira, or "the people of beautiful hair."™
The secret to their beautiful hair and skin is Ojon®, a rich exotic oil extracted from the tropical Ojon® tree. This unique tree grows only in the rainforest of the mosquitia region of central america.
you can find it at sephora.