My cousins Lauren and Marie stopped in San Francisco on their California Adventure tour. They were only here for one day so we didn't have a lot of time to visit all the sites that San Francisco is famous for.
I decided to have them do "the San Francisco Thing", you know - the marina, Fisherman's Wharf, Pier 39, etc. We parked at Union Square and walked over to the cable car line where we found good news and bad news:
The good news - it was "Spare the Air Day" so the cable cars were free all day! Yay -$10 savings! The bad news? The cable car line was an hour's wait. But since the girls were only here for the day, we decided it would be worth it.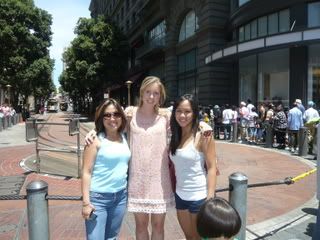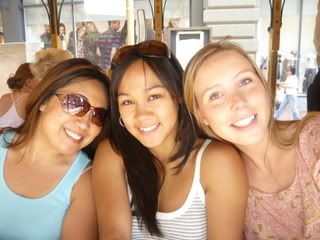 At exactly 1 hour later, we finally boarded a cable car and got great seats on the open side. Half way up Powell Street a huge thing came flying at us. I screamed, thinking I was going to get hit! Lauren thought we had hit someone! In reality, 4 huge guys jumped on as the cable car was moving.
After we arrived at Hyde Street (the end of the line), we walked out to the pier past the Maritime Museum to take photographs of the Golden Gate Bridge. It was such a clear day that the GGB was fully visible. At that point I thought this was the closest the girls was going to get to the bridge.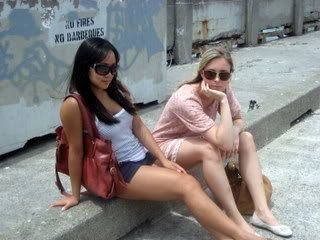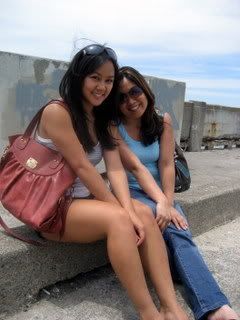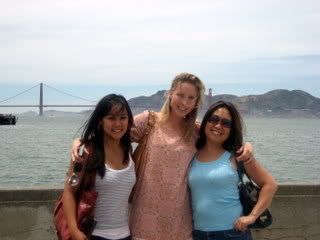 Next we started walking along Fisherman's Wharf. We stopped at Steve and Barry's, the store that sells "Bitten", Sarah Jessica Parker's low-priced clothes line. I love SJP but all I have to say is you get what you pay for.
Moving on, we stopped to have lunch at Cioppino, right along the Wharf. We had a fresh seafood lunch (what else is there to have on the pier?), then continued walking.
As we walked past the docks, a guy asked us if we wanted to take a Bay Cruise. Their previous tour had just returned and they were starting the line for next one leaving in 15 min. The cruise would take us under the GGB and around Alcatraz. It was only $10 so I thought it would be a memorable experience. I had never taken this cruise and had always wanted to. As Lauren said, "It was the best $10 we ever spent!"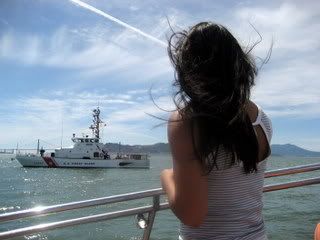 We were the first ones to board and raced to the bow of the boat to get the best seating. It was windy but warm and the crew had blankets for us to use if it got too cold. The 2 crew guys were entertaining - they offered to take our pictures and even let us drive the boat and take photos in the cabin!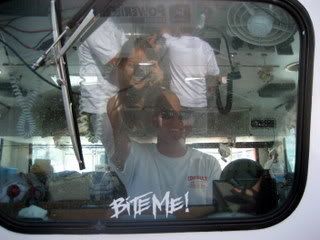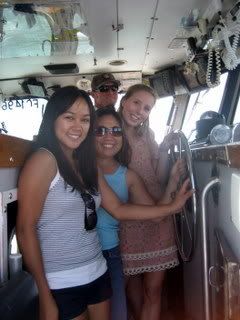 The best part was sailing under the GGB. You really have to experience it yourself to fully appreciate it.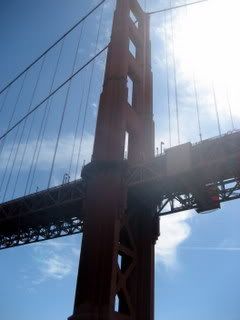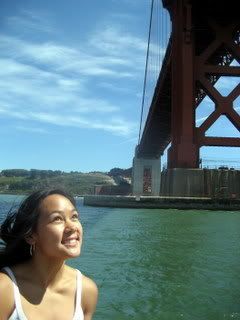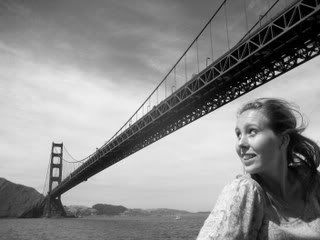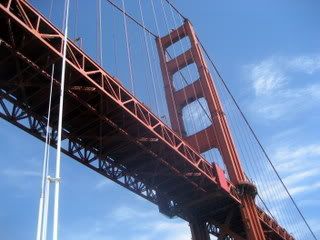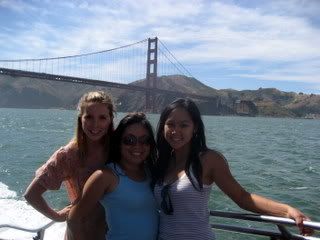 After we got docked, we finished our stroll to Pier 39 and then headed back to the cable car stop. But first, we had to go to the fountain shop at Ghirardelli Square. My friend Tina introduced me to the fountain shop a few months ago and I've been a frequent return visitor for their dark chocolate sundaes. We sat in the middle of the square, enjoying our treats before heading back.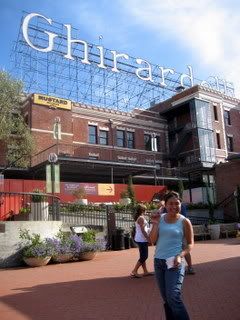 As we expected, the cable car line was a mile long! We decided to start walking along the route to try and catch a car at a later stop, where there weren't any lines. This proved to be hard because of the STEEP hills! As my friend Kady always said, "There's a reason why San Francisco women have the best legs!" The Hyde Street hill was brutal! We soon found ourselves at the corner of Hyde and Lombard - better known as the start of the Crookest Street. I'm glad we walked there but there was no way I was driving there. My car is a stick; I could never have driven up Lombard!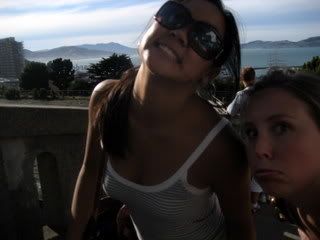 We stopped to take a few photos, then as luck would have it, a cable car came by for us! We returned to Union Square and spent a few minutes in the San Francisco Center where Marie and I introduced Lauren to Mango, Zara and H&M - popular European stores.
I hope the girls had fun; I had a blast showing them the City - and I hope they come back soon!