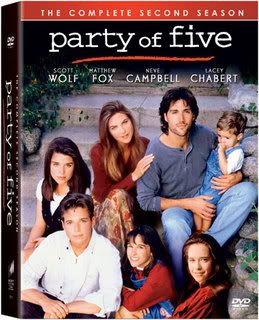 So this weekend, Shari and I were lounging around her living room, looking for something to watch on tv. As she flipped through the channel guide, I saw a listing for the "Facts of Life" on OnDemand. I LOVE that show! So I made her go to OnDemand's TubeTime to see what episodes were listed.
To our delight, we found a bunch of our favorite shows listed, particularly, "Party of Five!"
O-M-G, I LOVE PARTY OF FIVE! Its the best show ever! You remember it - the show from the mid-90's, set in San Francisco, about 5 kids who's parents' were killed in a car wreck. There's so many reasons to love it.
First of all, Charlie and Bailey, then Griffen - need I say more? But I will.
Second, its set in the best city - San Francisco. I love hearing all the Bay Area references and seeing all the places they filmed at.
Third, every episode leaves me bawling my eyes out. From Claudia looking for her Grandpa, to Bailey trying to figure out how to keep them all together, to Charlie having to bartend to provide for the family. This show is the ultimate tearjerker.
It takes me back to 1994, sitting in my college apartment at Enclave Apartments - 642 North 200 East #106, with my roommates, watching Party of Five on Monday nights after Melrose Place.
There's only a few POF episodes listed on OnDemand - I hope they post more - or I may just have to go out and buy the whole series!