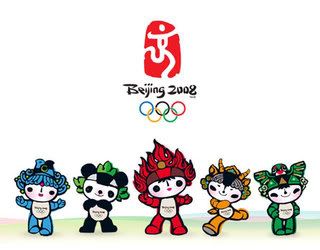 ("Beibei, Jingjing, Huanhuan, Yingying, and Nini - The official Olympic mascots! The slut in the middle is obviously my favorite. I mean, bitch has red hair." - Michael K from DListed)
What better event would there be for Shari and I to continue our transition of celebrating foreign holidays and cultures, than the Opening Ceremonies of the Summer Olympics!
On the lucky day of 08.08.2008, we got Chinese takeout and gathered together with our family and friends ("Aaron Chinese!" - Jasmine) to watch the Opening Ceremony extravaganza!
We were not disappointed. The breathtaking show was spectacular with stunning colors and impressive performances that were full of pageantry and symbolism. Although I must admit that there were moments and images that I personally found disturbing.
But overall, I was entertained and will be glued to the tv for the next few weeks to watch the competition that we are only able to enjoy every 4 years.