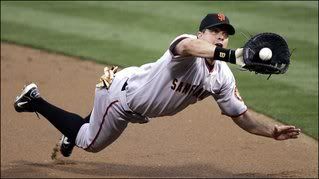 J.T. Snow fulfilled his one-day contract. He appeared in the starting lineup, led the Giants onto the field and warmed up the infielders, who made a pact to bounce their throws. Snow picked them all.
As Matt Cain completed his warm-ups, Travis Ishikawa ran onto the field to replace Snow - and was booed. Those boos turned to cheers when Snow walked off the field.
Snow had taken batting practice and stunned himself by hitting line drive after line drive. He even homered once, reaching the arcade and winning a bet from broadcaster F.P. Santangelo.
"I haven't hit since I retired," Snow said. "I haven't hit on a major-league field like that in two years. I was surprised I hit the ball on the barrel consistently. I didn't think I could hit one out."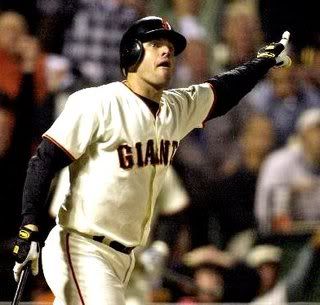 i love him.