It's Sunday morning and I'm sitting in the Phoenix airport waiting for my flight back to San Francisco. Another Spring Training trip has come to an end and I have mixed emotions about it - this year's trip was so different from previous years.
After a 2-year "Jasmine hiatus", we were back and ready to resume our annual Spring holiday that first began in 1994. After so many years of coming to Arizona, we'd developed our "traditions" of things that we did every year. But this year -- we had a lot of changes.
I've classified the trip into "Highlights" and "Lowlights:
Highlights (in no particular order):
1. Family Visits: This was the first year of visiting Arizona where we had family living in the area. Aunty Debbie and Michael moved to Avondale last summer and Julie moved to North Phoenix last Fall. Mom also happened to be in town this weekend, so it was nice to visit and spend some time with all of them.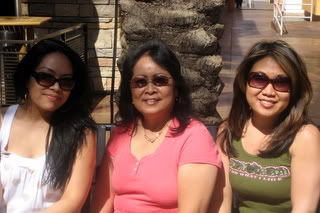 2. Don's and Charlie's: We returned to Don's and Charlie's (an 11-year tradition) for their ono barbecue baby back ribs. The ribs are one of those things in life that's a constant – it just doesn't change. It's so good that it deserves its own separate blog entry…
3. Celeb Sightings: Now this is where Jeff would have come into play. I'm sure there were a few baseball people at DnC's, but none that Shari or I recognized. But later that evening, while we were at another Scottsdale establishment, we ended up sitting next to Randy Winn and Rich Aurilia. I spotted Randy the minute we walked in. Granted, they're not my most favorite Giants, I must admit, I was excited to see them. When I first walked in, I really thought Randy was at the table with 3 ladies. It was only when we sat down that Shari leaned over and said, "I can't believe Rich is here too!" I literally looked around the room to see where Rich was at; I didn't realize that he the 3rd "lady" at Randy's table. I guess I don't have very much love for Rich because over the years, he's snubbed us one too many times. But hey, it's good to know that my Giants-radar skills are still in tact, even though I'm so unfamiliar with this year's roster.
4. Gold's Gym: This could be a "Lowlight" but I'll classify it as a "Highlight." In continuing with our traditions, Shari and Julie spent Saturday morning at a spa. I don't know why, but I didn't book any services when they did; so when I tried to book services later, there weren't any available appointments. So instead, I found Gold's Gym and spent the morning working out. I list this as a highlight because I've eaten so much crap that I really needed this workout to at least make me feel somewhat less guilty.
5. Return to Scottsdale Stadium: We returned to Scottsdale Stadium on Saturday for the Giants versus the Mariners. I love the intimacy of Scottsdale Stadium. I love how accessible the players are, and I love that it's full of real Giants fans (not the band-wagoners who have bad game-watching etiquette at PacBell Park).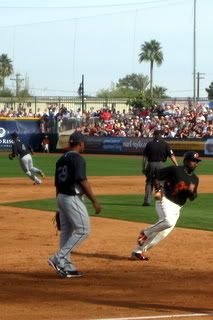 I love hearing the Lemonade Guy yelling, "Lemonade, Lemonade like Grandma made…yummy, yummy, yummy!" He's been there saying the same thing for 14 years.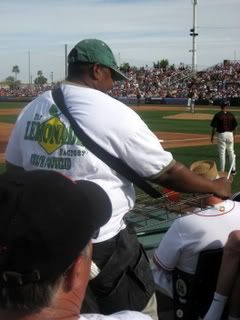 I love seeing Marilyn sitting in the handicap section behind home plate. I'm not bothered at all that she sits in that area. In fact, I admire her for having the genius idea to sit there, and enjoy the space and view! She's so lucky to get those seats every single year!


Normally, we would have arrived at the stadium 2 hours early to battle the little kids for prime position for photos and autographs from the Giants, but this year, we were late and by the time we got to the park, I felt like our moment had passed. Instead, we met up with Heather, chatted with Marilyn, and then eventually settled in for a "Zito vs. Bedard" match-up. Unfortunately, Ichiro didn't play. I was annoyed - that was one of the main reasons for going to this game – just to see Ichi…


In typical Zito fashion, he gave up a grand slam in the first inning. But surprisingly, the Giants battled back with HR's from Randy Winn, Aaron Rowand (proving he's worth his contract? – jury's still out on this one) and Ray Durham. It was a great day for a game. We sat next to the Mariner's dugout and enjoyed a mild sunny day with a cool breeze – perfect baseball weather. I'll also like to give props to #18 on the Mariners. He walked by us many times during the game and is very cute. But unfortunately for him, he lost. Usually we would have done a "5 and dive", but this time, we were having such a great time that we actually stayed till the 7th inning.

6. Cool Desert Nights: I can't take the day heat but I absolutely love cool desert nights (especially by the open bon fire). I love seeing the sun set against the mountains (it makes me think of the movie, "Waiting to Exhale"). I love being able to walk outside at night and not need a jacket. The desert is so magical. Every year that I visit, I think about how great it would be to live in the desert…but then I have to remind myself that the weather is only this nice during the Spring. Come summer, I'd hate it - you know I can't take hot weather.
Lowlights (in no particular order):
1. No Jeff: Jeff didn't make it this time and it wasn't the same without him. He was always our "lookout" who pointed out baseball and other sports people that we wouldn't have recognized on our own. It was like our trip wasn't complete without him there.
2. No Gainey Ranch: It was the first year that we didn't stay at the Hyatt Regency at Gainey Ranch. For 10 years, we'd benefited from Shari's Hyatt comp rooms and had always stayed at the Scottsdale resort. But now that she's with Hyatt Classic Residence, we actually had to pay for a hotel this year. We never knew how good we had it back then. I sure do miss the Esteban…and the Gainey Club.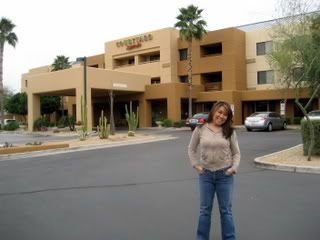 3. The Desert Heat: I'd arrived in Phoenix on Thursday, a day earlier than Shari. Since I had the first day all to myself, I decided to take in a Padre vs. Cubs game at Hohokam Park. I saw some good baseball - Maddux, Soriano, Derek Lee, Ryan Theriot….so what was the lowlight you ask? It was so HOT, HOT, HOT! SO HOT. I melted. Seriously! I barely endured 4 innings in the blazing sun. I finally gave up and headed to Fashion Place Mall in Scottsdale to meet up with my sister, who had just gotten off of work. The only good thing about that game was that I got a jumpstart on my summer tan.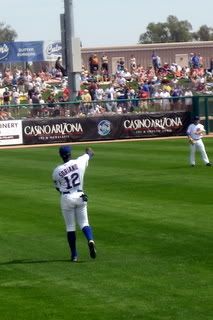 NOTE: While I was there, I did look around for Ronnie Woo-Woo (http://en.wikipedia.org/wiki/Ronnie_Woo_Woo), but saw no sightings of him.
4. Bad Shopping: Shari flew in on Friday afternoon. Normally we would have headed straight to Scottsdale Stadium for the afternoon game, but for whatever reason, just didn't make it. Instead, we spent the afternoon shopping which turned out to be rather disappointing. The Nordstrom in Scottsdale is my most favorite of all Nordstrom's so I was anticipating fabulous finds but didn't see very many "Springy" things that I couldn't live with out.
As an added "blog bonus", I asked Shari to provide her "Highlight's" from this year's trip:
1. "My massage from Dolce at the Borgatta day spa. I was a fan from the minute I walked through the door when I saw tons of red and pink rose petals strewn across the floor, leading to the reception desk. When I looked up, there were lots of pink and black, and chandeliers. It smelled good and was very girlie. I particularly enjoyed the Relaxation Room. To top it off, my massage was kick ass! Kick ass! Very, very pleased – except I fell asleep during part of it. But whatever."
2. "My second favorite was returning to the old haunt – Don's and Charlie's. Nothing beats the bbq ribs. Although, I was also delighted by the Spinach Artichoke Dip, and the Wedge Salad even though it had bleu cheese which sucked. I was highly disappointed because Naomi didn't let me send it back for fear that the waitress would have a heart attack and spit in our food, even though she had poor communication skills to begin with. I should have just been like Jasmine and just yelled, "Back! Back!"

3. "My third favorite highlight is the sense of familiarity with returning to Scottsdale Stadium. I enjoyed the drive thru Old Town Scottsdale (which Naomi actually hated because of traffic), because it reminded me of past trips with Jeff and Naomi and the many adventures we had. I loved pulling past the stadium and remembered how intimate it was and the many games we enjoyed in the sun – even if it was hot and sweaty. I remembered how crazy Naomi and I got trying to get photos and autographs from Giants and how Jeff would sit back and mock us, yet later be just as excited by our conquests, as he flexed his baseball knowledge in pointing out who every person was from the minor to major leagues…and of the course the pride we always feel seeing Marilyn and Jim, and knowing they respect us as quality baseball fans.
4. "My number 4 favorite highlight (in no particular order from the others), was visiting with Aunty Debbie, Aunty Barbara and Julie…and of course the Kona Sundae that we all shared. Love the coffee, love the oreo crumbles (yum!) and love the macadamia nuts!"
5. "And of course my 5th favorite, which I can't believe I momentarily forgot, would be the Randy Winn and Rich Aurilia sighting. Randy Win and I definitely made eye contact! EYE CONTACT! I felt pure joy and giddiness in building up the courage to wave at Randy on our way out. When I waved at him, I was SIX inches from him and I didn't care that anyone was with him! I was like Squints from movie The Sandlot, in the diving board scene with Wendy Peppercorn. It was good! It was really good! Such joy and satisfaction…been planning it for years!"
Naomi's NOTE: Shari forgot to mention her other highlight of seeing Scott Baio – yes, Chachi himself – at the airport when she arrived.
All in all, it was a good trip. I'm definitely glad we went although it just wasn't the same as before. I haven't mentioned it yet, but a lot of my melancholy has to do with the absence of Barry Bonds. There was always a buzz in Scottsdale Stadium when Barry was around – whether he was in the game or running cool downs in the outfield at the end of the game.


I miss him (a lot!), and his teammates -- JT Snow (who I absolutely adore), Bill Mueller, Ellis Burks, Benito Santiago, Jim Brower, and yes, even Shawn Estes and Dusty Baker. We just never knew how good our teams were back then.


But now is the dawning of a new era; a rebuilding time for the Giants. So while it's not the same, our tile does say "Shari and Naomi: Giants Fans Forever" so we'll still be back in Scottsdale every year. Maybe one of the years, we'll even have Sparky with us! I've already worked out a plan to incorporate her into our autograph escapades…