my cousin shari and i have been going to spring training since 1994. back then, i wasn't even a baseball fan; i just went for the shopping and weather. but when i moved to the bay in 1998 i underwent a transformation that people still talk about -- a fanatical g's fan.
this is a recollection of random things that's happened to us at spring training over the years.
* for like the first 6 years we never knew about the freeway from the phoenix airport to scottsdale. instead, we took the backroads (like by the phoenician) which took forever to get to the airport.
* the first year we went, we arrived late in the evening so we got a room at the hyatt phoenix for the first night (we always stay at the hyatt scottsdale). we ordered room service; jeff and i both ordered buffalo wings. he ate it with ranch dressing; i didn't and he got food poisoning. he was so sick for the entire trip. shari and i took the car and cruised up and down scottsdale road a gazillion times with nothing to do. we went to the drugstore and got him nyquil which pissed him off since it wouldn't help food poisoning. we went to don's and charlie's for the first time without him and couldn't recognize any players around us because neither one of us knew anyone. on the day we left, he felt better so we took him by dnc's to check it out. matt williams' harley was parked outfront. that was cool.
* the second year we went, shari and i arrived on the first flight of the day; jeff couldn't arrive till that evening. the car rental was in jeff's name so instead of picking up a car for that one day, we put our lugguage in lockers at the airport and took a cab to downtown phoenix. i can't remember why we went there but we soon realized there isn't really much to do there in the middle of a work day. so what did we do? we sat on a damn bench for hours and kept calling jeff every 30 minutes to see where he was and what he was doing. he was pissed. oh and i remember we got smoothies.
* another "we can't read directions" story. we wanted to go to peoria and instead of taking the freeway we took bell road. and it took forever. and ever. but once we were there, we saw a krispy kreme. this was before they were all over the place. jeff and i had krispy kreme's before but shari didn't. she didn't have an interest in it but we forced her to try it. her reaction was priceless; needless to say she loved it. we have it on video.
* every year we catch a suns game. for a number of years in a row, muhammad ali was always at the game we went to. till this day, jeff still insists he's faking his illness.
* one year, on the way to a suns game, we were passing by marjerle's and realized there was a celebrity event going on. we saw steve erkle from family matters, nicholas newman from young and the restless, coolio, and i can't remember who else.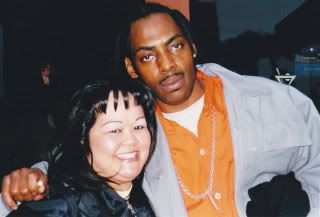 * another year, jeff stayed home and my sister julie joined us. she isn't really a baseball fan. anyway, we were sitting on the lawn at scottsdale stadium, g's vs rockies. shari and i were really into the game but she could have caredless and laid down on the blanket, sunbathing. out of all the people in the crowd, a larry walker flyball landed right next to her.
* that same year, we spent a day at fashion square mall in scottdale. they had this special - for every $200 you spend, you get a $20 gift certificate. we were so dumb, it jazzed us up and we tried to get as many of those damn gift certificates we could. can you say buyer's remose?
* another year at scottsdale mall, shari and i were walking thru the shoe dept in macy's and in walks felipe alou. there was no one else around, just the 3 of us. and we were froze in the moment and didn't say anything.
* last year, we were having dessert at guarduno's. when we walked in, i walked right to our table. as i sat down, i saw shari's face contorting, motioning to a table with a guy and 2 girls. i looked over and couldn't understand why she was pointing to them. she had to tell me it was randy winn and rich aurilia and their wives. i didn't even see rich there. shari sat there trying to photos with her camera phone. when we were leaving, she walked by their table and waved hi at them. crazy.
* esteban: the flamenco guitarists that performed nightly at the hyatt
* of all the years we've been going to spring training, we've never stayed for an entire game b/c it's either:
a) too hot
b) we can't wait to get back to the hotel to order our gainey club sandwich
c) we can't wait to get back to the hotel to go into the pool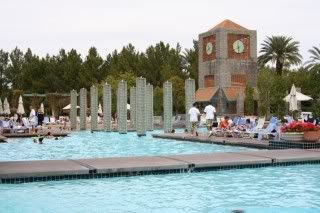 d) we can't wait to get back to the hotel for our spa treatments