i just got done watching the final game at yankee stadium. they call it the "cathedral of baseball." i visited "the catherdral" in the summer of 2003.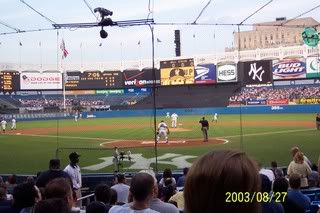 truth be told, i wasn't impressed by it at all. in fact, i hated it. why?
* its in the dumps
* the sweltering heat
* they dont sell bottled water
* the sweltering heat
* the seats are small (i was squished next to this huge guy. so gross in the..
* sweltering heat
* the food sucks
* the sweltering heat
but i do love history so i can appreciate what yankee stadium represents.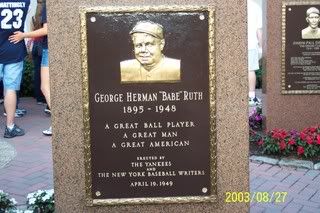 as i stood in monument park, i looked up to the second deck above right field and imagined the fans throwing a folding chair at roger maris. and while we stood there, jeff caught a joe crede homerun ball.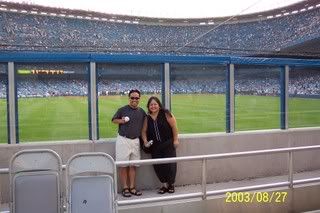 so many of us say we hate the yankees. but truth be told, we're jealous of them. we wish our owner spent as much as the boss. we WISH our team had as many world series championships. heck, i wish my team had just one championship!
i love how the fans do the yankee roll call with the players, and i do love the captain...