i went to the circus last night. the britney circus.
like most concerts, i assumed that cameras weren't allowed so i left mine at home, only to find everyone around me with theirs. i was so bummed; we were in the 8th row and could have had fantastic photos. luckily i had my iphone and took a few. granted, they are kinda crappy but its better than nothing...
so tina, i'm posting these for you.
#1 - pcd
-- the pussycat dolls opened the show. after seeing them upclose, i agree with dlisted - they all look like trannies.
#2 - perez
-- perez introduced brit in a video montage. to quote tina, "perez used to trash celebs until they started inviting him to their parties, now he thinks he's one of them..."
#3 - circus
-- brit opened the show with, "there's only 2 types of people in this world..." i am obsessed with this video. i watch it driving to work. and i'm not the only one who does that...you know who you are...
#5 - piece of me
-- "i'm miss american dream since i was 17, don't matter if i step on the scene or sneak away to the philippines..."
#6 - up close
-- i can't remember what song this was but wendy was telling me, "get the shot!" cause she was right in front of us! LOL
#7 - slowing it down to "everytime"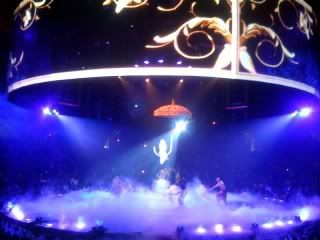 -- everytime i try to fly, i fall without my wings i feel so small, i guess i need you baby...
#8 - the legendary ms britney spears
she's amazing. she's entertaining. yes, i love her. our lady of cheetos forever.