i love the city. no, not whitney's show - the city! please don't call it san fran - only tourists do that. people who live here call it san francisco or "the city."
in the spring of '98, i came out to the bay area to interview for jobs. one of my interviews was at decker. i had to take bart into the city by myself for the first time ever. i was so not a city person back then - so naive and so terrified. i distinctly remember coming up from the montgomeory bart station, looking up at the buildings and being so overwhelmed, not knowing where to go. i also thought every person on the street wanted to mug me. LOL.
i got hired at decker, moved to the bay (thank you fred - best move i've ever made!) and worked in the heart of the financial district at 44 montgomery (at post and sutter).
it was such a great experience. the energy and commotion of the city is amazing. every person should experience working in a major city at least once in their professional career. there's nothing like it.
these days i work on the peninsula, but today i had to go into the city for meetings. i took bart and got off at the montgomery station and voila - there was 44 - it brought back so many memories!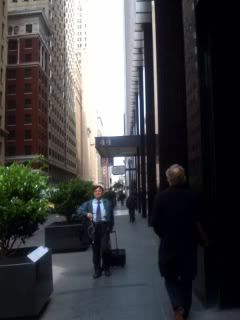 * the 17th floor antics
* lunch at crocker galleria (the salad bar at the fountain cafe - its still there!)
* 50% off on flowers at the street stands on fridays
* bart etiquette and my annoyance of people who violated it (i actually have video from '99 of my bart commute and the decker office, but its too large to share)
* the nazi bakery
* ecw's at the palace hotel
* specialtys
decker had some of the best people in the world. not co-workers, but people. people who actually cared and supported each other. we had the best laughs and i'm so glad that some of the "decker dead" are life-long friends. good times.