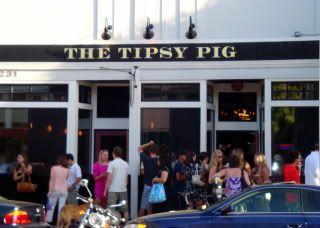 i was on chestnut st in the marina last night and went to the tipsy pig. it my was first time there and based upon the "bouncer" controlling the entrance, its one of the more popular places in this yuppy neighborhood (btw, i like yuppy).
clearly people go there for the bar, because it was packed. cocktails weren't the only thing spilling over.
but for being one the warmest days in the city, i had to ask, "where's the AC?!?" that will cost them a star.
we were seated inside but there was a backyard patio that looked like one big frat party.
the food was delish - a bruschetta appetizer with no tomatoes (a little odd) and a halibut with potato fingerlings, and asparagus entree. we heard the ice cream sandwiches were excellent but we passed on dessert (we'll be back to try it next time).
the service was good but they have this weird thing with books. there's old books throughout the restaurant and they bring you the bill in a book. i'm still trying to figure out how that relates to the whole pig theme thing they have going on.
anyway, like yelp, i give it 3.5 stars.
oink.