so far i've been pretty good about sticking to a training schedule for the half-marathon. i'm on my fourth consecutive week of running. i researched a bunch of training programs and put together this plan based upon what works for my schedule: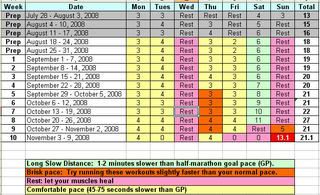 in addition i have my 6 am gym classes:
monday: kickboxing / core
tuesday: weight training
wednesday and friday: total body workout / core
thursday: body pump
i live for wednesday night yoga and sundays - the day of rest!